Cutter Head & Knife
Cutter Head & Knife
ENSHIN Planer Head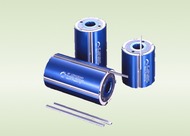 Self-Locking Planer Head
•Unique centrifugal self locking system accurately locks the knives in place
| | |
| --- | --- |
| Application | Fine and rough planing |
| Machines | 4-side planer, moulder |
---
ENSHIN Knife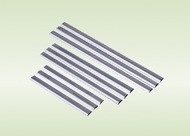 •Knife quality HS-HP provides up to 5 times longer edge life compared with regular HSS knives
•HS-HP and HW knives are for single use. No edge life reduction and inconsistent cut after grinding
---
ECO ENSHIN Knife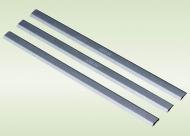 •Eco Enshin knife is micro carbide tipped on edge, saving 93% of carbide compared with full solid carbide knife.
•Flexible but strong steel knife body prevents total knife breakage by accident.
•Economical than full carbide knife.
---
Tersa System Blade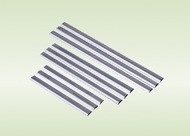 Knife for Tersa-System Planer Heads
Tersa is a registered trademark of Samvaz S.A.
Kanefusa Corporation makes no claim of ownership to this trademark
---
ST-1 Planer Head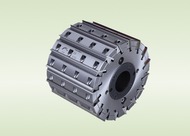 Hydro Planer Head
•Reduces the play between spindle and head enabling a truer running of the head
| | |
| --- | --- |
| Application | Knife carrier for ST-1 flat knives |
| Machines | Planer |
---
ST-1 Planer Knife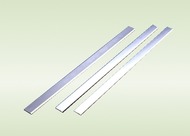 Planer Knife
•Knife quality HS-HP provides up to 5 times longer edge life compared with regular HSS knives
•Longer lifetime increases machine run time and reduces grinding cost
•Because of its self-resharpening properties, consistent high surface quality is achieved, reducing or even eliminating subsequent sanding
•Provides high process reliability
| | |
| --- | --- |
| Application | High speed planing and regular planing |
| EdgeMaterial | HS-HP |
---
ST-1 Revo Planer Knife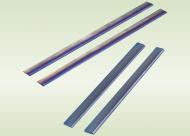 For Super High Speed Moulder
ST-1 Revo gives the highest feeding speed all the time due to 3-5 times longer sharp edge
by αMT COATING
| | |
| --- | --- |
| Application | High speed planing and regular planing |
| Machines | Super High Speed Moulder |
| EdgeMaterial | HS-HP |
---
ST-1 Knife Head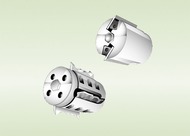 PowerLock Type
•For use with ST-1 knives
•Available with hook angle 20°for softwood and 12°for hardwood
| | |
| --- | --- |
| Application | Knife carrier for ST-1 corrugated back knives |
| Machines | Powermat |
---
ST-1 Corrugated Back Knife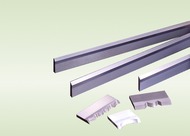 Corrugated Back Knife
•Knife quality HS-HP provides up to 5 times longer edge life compared with regular HSS knife
| | |
| --- | --- |
| Application | Profiling |
| EdgeMaterial | HS-HP |
---